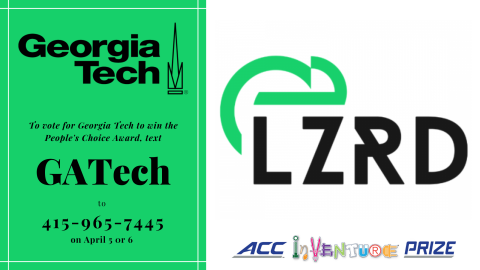 Download image
Apr 05, 2021 — Virtual
By Jessica Barber
On April 21, 2021, biomedical engineering student Michael Pullen will serve as Georgia Tech's representative in the fifth annual ACC InVenture Prize. Here he will compete with teams from twelve other universities for the chance to take home $30,000 in prizes.
Pullen's invention first took root when he experienced the struggle of getting turf burn while playing football. While most players seek protection through regular compression sleeves, this often leads to decreased grip, more fumbles, and difficulty in maneuvering plays.
While working in sports medicine with the Atlanta Falcons, Pullen found a way to directly avoid this problem. LZRD Sleeve is a compressive sleeve that integrates gripping and moisture-wicking technology to deliver protection and control without sacrificing mobility nor comfort. 
Since then, LZRD Sleeve has secured its place in non-athletic arenas. A year ago, the world of sports halted due to COVID-19 shutdowns. It was then that Pullen sought other applications for his innovative sleeve — LZRD Sleeve has expanded its market to delivery drivers, gardeners, and maintenance workers seeking better performance and protection from harm. 
LZRD Sleeve is now being used by the largest U.S. courier service, and it has also been featured in Neil DeGrasse Tyson's podcast StarTalk. On the same hand, Pullen has been in contact with a whopping five Fortune 500 companies. He ultimately hopes that InVenture Prize will show that with hard work, nothing is impossible.
 "Never in a million years would I have thought I would be representing Georgia Tech in the ACC InVenture Prize. Getting out of your comfort zone and trying new things is important, and by winning, I hope to set an example so that others might do the same," Pullen stated.
Overall, winning the ACC InVenture Prize would allow LZRD Sleeve to expand even further through capital investments, uptakes in production, and coverage of associated legal fees.
The Georgia Tech community is encouraged to show Pullen its support through voting for the People's Choice Award of $5,000. Voting is open from 8 a.m. on Monday, April 5 until midnight on Tuesday, April 6.
To vote, please text GATech to win the ACC InVenture Prize People's Choice Award to 415-965-7445.
Winners will be announced on Wednesday, April 21 at 7 p.m. on PBS stations throughout the ACC region. 
More information about LZRD Sleeve can be found at lzrdtech.com.